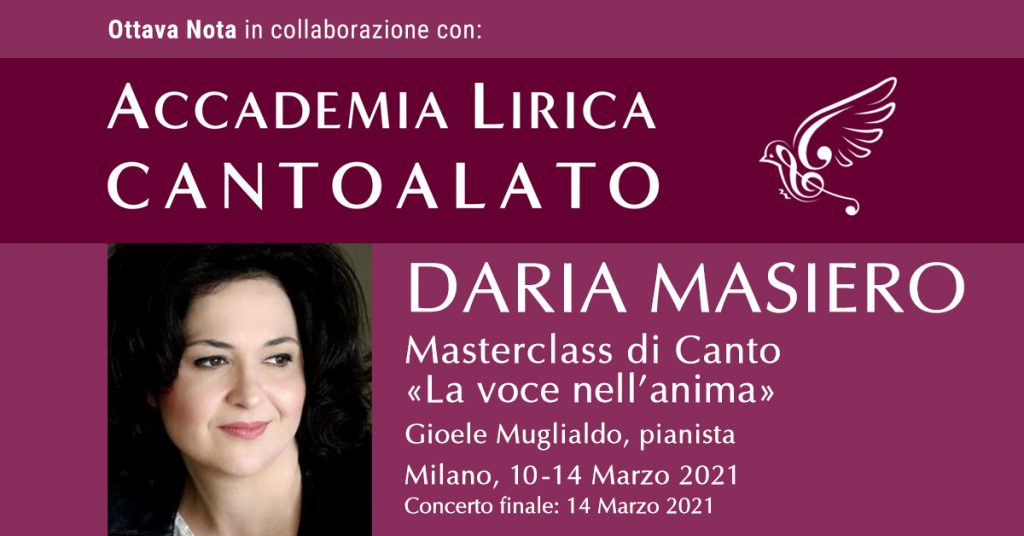 Ottavanota in collaborazione con Accademia Lirica Cantoalato
dal 10 al 14 Marzo 2021
Concerto Finale: 14 Marzo, Auditorium Fondazione Pasquinelli, Milano

---
Daria Masiero
Masterclass di Canto
«La voce nell'anima»

M° Gioele Muglialdo, pianista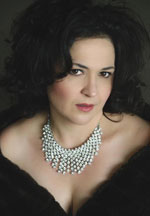 Daria Masiero
Cugina dell'indimenticabile Lauretta Masiero, il soprano Daria Masiero e'considerata una delle voci più importanti del panorama lirico mondiale. Studia violoncello e didattica della musica, si diploma con il massimo dei voti in canto sotto la giuda del soprano G. Caputi, presso il Conservatorio di Alessandria.
Si perfeziona presso l'Accademia della Scala di Milano, con L. Serra, L.Gencer, R. O. Malaspina, L. Alva, T. Berganza, M. Freni. Vincitrice di numerosi concorsi a giovane età, e' stata la voce che ha aperto le inaugurazioni Verdiane di Busseto del 2001 diretta dal M° Gandolfi, e ha accompagnato grandi artisti come Renato Bruson, Leo Nucci, José Carreras, Plácido Domingo nei più prestigiosi Teatri e Festival internazionali.
Ha cantato in alcuni dei maggiori Teatri: Scala di Milano, Regio di Torino, Auditorium di Torino, Carlo Felice di Genova, Massimo di Palermo, Massimo di Catania, Petruzzelli di Bari, Liceo di Barcellona, Arcimboldi di Milano, Regio ed Auditorium Paganini di Parma, Donizetti e Sociale di Bergamo, Festival di Torre del Lago, Verdi di Busseto,Verdi di Padova, Sociale di Trento, Filarmonico di Verona, Comunale di Catanzaro, Comunale di Reggio Calabria, Rendano di Cosenza, Lirico di Rimini, Magnani di Fidenza, Comunale di Bologna, Sociale di Como, Ponchielli di Cremona, Grande di Brescia, Fraschini di Pavia, Teatro dell'Opera di Melbourne, Concert Hall di Cardiff, Teatro Nazionale di Nizza, Gasteig di Monaco, Art Center Seoul, Concert Hall Beijing, National di Tokyo, Festival di Peralada, Belles Art di Bogotà, Teatro dell'Opera di Macau, Sydney Opera House, Sydney on the Harbour, Arts Center di Melbourne, Town Hall di Melbourne, Festival di Wexford, Festival di Varna, Festival di Savonlinna, Teatro dell'Art di Rouen, Rudolfinum di Praga, l'Opera di Nizza, Teatro Nazionale di Lubecca, Gayethe di Dublino, Salzburg Festspiele.
Ha lavorato con i più grandi direttori e registi del panorama lirico: Pappano, Muti, Oren, Chung, Luisotti, Conlon, Volmer, Tokarczyk, Giudarini, Hamalainen, Noseda, Kontarsky, Connely, Bisanti, Galli, Bartoletti, Pidò, Gandolfi, Mianiti, Web, Palumbo, Veronesi, Fogliani, Campanella, Fournellier, Auguin, LiuJa, Carminati, Albrecht, Boemi, Ceccato, Stein, Montaldo, Puggelli, De Simone, Gieleta, Murphy, Ponnelle, De Ana, Pasqual, P. Alli, Kaeigi, Maestrini, Tarabella, Bell, Placido, Alagna, Abbado, DeTommasi, Grinda, Stefanutti, Kokkos, De Luca, Cobelli, Zambello.
Il soprano ha interpretato i ruoli principali di numerose opere: Puccini Bohéme, Gianni Schicchi, Turandot, Manon Lescaut, Rondine, Tosca, Butterfly; Verdi Otello, Traviata, Oberto Conte di San Bonifacio, Don Carlo, Jerusalem, Macbeth, Trovatore, Aida, Messa da Requiem, Attila, La Forza del Destino; Bizet Carmen; Cherubini Medea; Boito Mefistofele; Pergolesi La Serva Padrona, Stabat Mater; Rossini Stabat Mater, Cenerentola; Donizetti Ugo Conte di Parigi; Bellini Norma; Mozart Don Giovanni, Nozze di Figaro, Requiem; Gluck Orfeo ed Euridice; Leoncavallo Pagliacci; Cilea Arlesiana, Adriana Lecouvreur; Statkowski Maria; Henze Boulevard Solitude; Mendelssohn Sogno di una notte di mezz'estate, Tchaikovsky Eugene Onegin.
---
REGOLAMENTO
AMMISSIONE
• La Masterclass è aperta ad allievi ed uditori che siano studenti di canto e professionisti italiani e stranieri, limite d'età 36 anni
• Gli allievi si distinguono in:
-Effettivi: 9 posti disponibili
-Uditori: potranno assistere alle lezioni senza potervi partecipare attivamente; hanno facoltà di porre domande tra una lezione e l'altra.

SPECIFICHE
• Le lezioni si svolgeranno dall'11 al 13 Marzo 2021
• Ogni allievo ha diritto ad una lezione giornaliera (in totale 4 lezioni); la lezione ha durata di 50 minuti
• Le lezioni verteranno su tecnica vocale/dizione e fonetica/interpretazione • La docente impartirà:
-direttive sul repertorio e sui ruoli adatti alla vocalità
-suggerimenti sulle competizioni di canto italiane ed europee
-consigli su audizioni con agenzie italiane ed estere
• Gli allievi devono essere presenti per l'intero giorno e tutti i giorni, pena la non emissione dell'attestato e ammissione al concerto
• La Masterclass si svolgerà a Milano, Via Marco Bruto, 24
• Ogni decisione è ad insindacabile giudizio dei docenti.
PROGRAMMA MUSICALE
Libero, con preferenza per il repertorio italiano e francese
ISCRIZIONE
• Iscrizioni fino a esaurimento posti.
• Qualora le richieste fossero superiori al numero massimo stabilito, sarà effettuata una selezione in base ai materiali audio/video inviati.
• Entro il 24 Febbraio a tutti gli iscritti verrà comunicato l'elenco degli allievi effettivi.
• A tutti gli iscritti che per mancanza di posti non saranno accettati, verrà data comunicazione via E-mail e verrà restituita la quota di iscrizione.
• Nulla di queste quote sarà restituita, anche parzialmente, nel caso di rinuncia da parte dell'allievo.
• Nel caso in cui non vi fossero le condizioni idonee all'avvio della Masterclass, la quota pagata per l'iscrizione verrà restituita.
• OttavaNota e Accademia Lirica Cantoalato non si ritengono responsabili dell'eventuale sospensione delle attività per motivi indipendenti dalla propria volontà; nel caso in cui la Masterclass non si potesse svolgere nelle date indicate, sarà tuttavia rimandata e saranno prontamente comunicate le nuove date. Poiché la Masterclass avrà luogo, non potrà essere richiesto il rimborso della quota di iscrizione e/o di frequenza.
CONCERTO FINALE
• Il Concerto pubblico finale si terrà il 14 Marzo presso il prestigioso Auditorium Pasquinelli di Milano.
• La Signora Masiero indicherà gli allievi effettivi che parteciperanno al concerto finale.
• OttavaNota e Accademia Lirica Cantoalato non si ritengono responsabili dell'eventuale impossibilità di svolgere il concerto presso la sede indicata e/o in presenza del pubblico, a causa di motivi indipendenti dalla propria volontà.
• Il tal caso, il concerto avrà comunque luogo presso l'Auditorium di OttavaNota e la videoregistrazione del concerto verrà pubblicata sulla pagina di Accademia Lirica Cantoalato.
• Il Concerto finale vedrà la partecipazione straordinaria di Daria Masiero
• È opportuno munirsi di abito da concerto.
• Saranno invitati agenti e/o organizzatori.
• Gli allievi che a giudizio insindacabile del docente si saranno distinti nel corso della Masterclass per particolari doti artistiche, potranno essere inseriti nei programmi delle manifestazioni organizzate dall'Accademia Lirica Cantoalato, Associazione Euterpe OttavaNota, Associazione Amici della Lirica di Saronno "Giuditta Pasta", Casa Verdi – Milano, DEMOCO.
ATTESTATO
A conclusione della Masterclass verrà rilasciato un attestato a tutti gli iscritti che avranno frequentato il corso per intero. L'attestato sarà rilasciato dall'Accademia Lirica Cantoalato, Associazione Euterpe OttavaNota, col Patrocinio di DEMOCO
COPYRIGHT e PROPRIETA' INTELLETTUALE
• Accademia Lirica Cantoalato effettuerà la registrazione audio-video del concerto finale, che costituisce l'unica registrazione autorizzata per un utilizzo pubblico. Tale registrazione, integrale o parziale, potrà essere richiesta dai partecipanti e sarà pubblicata sul sito di OttavaNota. Lo stesso vale per i materiali fotografici.
• Accademia Lirica Cantoalato e OttavaNota detengono i diritti di distribuzione, divulgazione e utilizzo attinenti registrazioni audio, video, pubblicazioni e/o altro afferente alle Masterclass in oggetto.
• Sono ammesse registrazioni (audio o video) delle lezioni, solo ed esclusivamente per uso personale. Sottoscrivendo l'iscrizione si accetta la clausola esplicita di non diffusione di tali materiali audio o video tramite qualsiasi mezzo o strumento.
SEDE DELLA MASTERCLASS
Via Marco Bruto, 24 – Milano
• Passante ferroviario (S5, S6, S9) fermata Forlanini
• Autobus n° 73 fermata Forlanini; n° 66 e n° 45 fermata Piazza Ovidio
• Tram n° 27 fermata Marco Bruto
COSTO E ISCRIZIONE
Allievi effettivi: 150 € quota di iscrizione + 350 € quota di frequenza
Uditori (tutto il periodo): 80 € quota di iscrizione + 100 € quota di partecipazione
Uditori (giornaliero): 45 €

Iscrizione:
Le iscrizioni sono aperte e chiuderanno il 21 Febbraio 2021 Documenti da allegare alla domanda di iscrizione da inviare a info@cantoalato.it
1. Modulo di iscrizione compilato (vedi allegato)
2. Frontespizio del passaporto o della carta di identità
3. Curriculum comprendente l'eventuale attività didattica e/o concertistica
4. Registrazione audio o video di uno o più arie cantate dal candidato (formato mp3 o mp4)
5. Ricevuta di versamento di 150 € da effettuarsi all'ordine di:

Associazione Euterpe OttavaNota
Iban: IT 38 L 030 6909 6061 0000 0119 953

indicando nome, cognome e Masterclass a cui si vuole partecipare.

Quota di Frequenza/Partecipazione:
Da effettuarsi entro il 1 Marzo 2021 presso la segreteria OttavaNota aperta tutti i giorni feriali dalle ore 15,00 alle ore 19,00 in contanti, carta di credito, bancomat, assegno o satispay, oppure bonifico bancario (indicando nome, cognome e Masterclass a cui si vuole partecipare) all'ordine di:

Associazione Euterpe OttavaNota
Iban: IT 38 L 030 6909 6061 0000 0119 953
Soggiorno:
Si informa che la struttura Residence Futura, situata vicino la sede dell'Accademia, in convenzione con OttavaNota pratica i seguenti prezzi: singola 70€, doppia 90€. Le camere sono dotate di angolo cottura.
SEGRETERIA E CONTATTI
Via Marco Bruto, 24 – 20138 Milano
E-mail info@cantoalato.it
Tel. 0289658114
M° Muglialdo (+39) 3487001383
STAFF
ACCADEMIA LIRICA CANTOALATO
Direttore Artistico: M° Gioele Muglialdo
Segreteria organizzativa: Elisabetta Ronchi
Presidente Onorario: Dott. Alessandro Ubertazzi
Con il Patrocinio di DEMOCO – Moda, Design, Comunicazione
Ottavanota in collaborazione con Accademia Lirica Cantoalato
10 – 14 March 2021
Final Concert: March 14th, Auditorium Fondazione Pasquinelli, Milan

---
Daria Masiero
Singing Masterclass
«La voce nell'anima»
"Soprano Daria Masiero shone brightly. Hers is a remarkably spacious and dark-toned voice that flowers into a powerful, silvery upper register…"
The Australian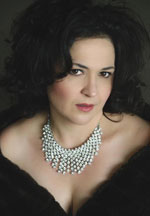 Daria Masiero
Cousin of the unforgettable Lauretta Masiero, Daria Masiero is one of the most important Italian singers performing in the world of opera today.
Plans for 2018 include New Year Concert at Giglio in Lucca, debut as Fiora in L'Amore dei tre re at The New York City Opera, Norma in Norma at the National Theatre in Rijeka, Tosca in Tosca at the Puccini Festival in Torre del Lago and debut as Suor Angelica in Suor Angelica at Giglio in Lucca.
Her engagements include Elisabetta in Don Carlo at La Scala in Milan, Lady Macbeth in Macbeth and Liù in Turandot at Theatre Petruzzelli Bari, Amelia in Un ballo in maschera in Pavia, Cremona, Brescia, Bolzano and Como. She also returned to Opera Australia as Aida in Handa's Opera on the Harbour, Liù in Turandot and Tosca in Tosca at the Sydney Opera House, Manon in Manon Lescaut at Art Centre in Seoul.
Odabella in Attila at Theatre Massimo in Palermo and National Theatre in Lubeck, in the title role of Turandot in Handa's Opera on the Harbour in Sydney. She has been also portray Leonora in La Forza del destino at Varna Festival and also the title of the role in Norma.
Daria Masiero studied singing and cello, obtaining her diploma with honours at the Conservatorio Antonio Vivaldi in Alessandria. She also studied at l'Accademia at the Teatro alla Scala, Milan, and with Mirella Freni at the Accademia di Belcanto di Modena. Ms Masiero was a finalist in the Cardiff Singer of the World in 2005. She has also won some of the most important competitions in Italy, including the Caruso competition in 2000.
Daria Masiero has worked with the greatest conductors and directors, including: Riccardo Muti, Myung-Wung Chung, Renato Palumbo, Evelino Pidò, Sir Antonio Pappano, Daniel Oren, Gianandrea Noseda, Nicola Luisotti, Philippe Auguin, Aldo Ceccato, Bruno Campanella, Marco Guidarini, Lü Jia, Paul Connelly, James Conlon, Bruno Bartoletti, Francesca Zambello, Pier Luigi Pier'Alli, Daniele Abbado, Giuliano Montaldo, Michele Placido, Jean-Pierre Ponnelle, Bruno De Simone, David Alagna, Beppe De Tommasi.
Ms Masiero has sung many roles in opera in Italy: Desdemona in Otello for La Scala in Milan, Teatro Sociale in Como, Teatro Ponchielli in Cremona, Teatro Fraschini in Pavia, Teatro Grande in Brescia, and Teatro degli Arcimboldi in Milan; Manon in Henze's Boulevard Solitude, Musetta in La Bohème, and Liù in Turandot, all for Teatro Carlo Felice in Genoa; Euridice in Orfeo ed Euridice for Theatre Comunale in Bologna; Serpina in La Serva Padrona for Theatre Massimo in Palermo; Mimì in La Bohème at the Theatre Comunale in Alessandria; Nedda in Pagliacci for Bellini in Catania; Zerlina in Don Giovanni, Glauce in Medea, Micaela in Carmen at Regio in Torin; Adelia in Donizetti's Ugo, Conte di Parigi at Arcimboldi in Milan; Glauce in Medea and Euridice in Orfeo ed Eridice for Massimo in Palermo; Donna Anna in Don Giovanni at Padova and Bassano del Grappa; Margherita in Mefistofele and Tosca for Regio in Parma. She sang in Hélène in Jérusalem and Butterfly for Magnani Fidenza. She also performed the title role in Adriana Lecouvreur in Como, Pavia and Cremona; Vivette in L' Arlesiana and the title of the role in Tosca at Rendano in Cosenza.
International operatic engagements include: Mimì in La Bohème at the Miskloc National Theatre in Hungary; Despina in Così fan tutte for the Grand Théâtre in Geneva; La Rondine in Nice; her role debut as Margherita in Mefistofele for Savonlinna Opera Festival, Finland as well as a return the following season for a reprisal; Donna Elvira in Don Giovanni for Opera Ireland and for Theatre National in Roan; The Countess in Le Nozze di Figaro for the Macau International Music Festival and for Opera Ireland; Violetta in La Traviata for Bogotà and Art Centre in Seoul; the title role in Statkowski's Maria for the Wexford Opera Festival; Liù in Turandot for Opera Australia and reprisals of Mimì in La Bohème in Jeonju National Theatre in South Korea; the title role in Tosca at the Rudolfinum in Prague; Elisabetta in Don Carlo for the Salzburg Festival; Leonora in Il Trovatore, the title role in Aida, Turandot and Micaela in Carmen for Opera Australia.
Ms Masiero's concert repertoire includes: the soprano soloist in Mendelssohn's A Midsummer's Night's Dream at Teatro degli Arcimboldi in Milan. There have also been performances of Verdi's Requiem for the Perelada Festival, and in Melbourne and Perth, and in Munich at Teatro Gasteig, and Rossini's Stabat Mater in Nice and Monte Carlo. She has also performed as the soprano soloist in Carmina Burana at the Teatro Bellini in Catania.
Daria Masiero sang Mozart's Requiem at the Paganini Auditorium in the Teatro Regio di Parma with tenor José Carreras; she sang in a concert dedicated to 'Puccini Women' at Torre del Lago with Plácido Domingo, and she sang Opera Concerts with Leo Nucci and Renato Bruson.
---
REGULATIONS
ENTRANCE
• Masterclass is open to Italian and foreign singing students and professionals, age limit 36 years
• Students are distinguished in:
– active students: 9 places available
– auditors: will be able to attend the lessons without being able to participate actively; may ask questions between classes.
SPECIFICATIONS
• Lessons will take place from 10 to 13 March
• Every student has the right of n° 1 Individual Lesson a day (4 lessons in total); each lesson=50 minutes
• Lessons will focus on vocal technique/diction and phonetics/interpretation
• The teacher will give:
– guidelines on the repertoire and roles suitable for vocality
– suggestions on Italian and European singing competitions
– advices on auditions with Italian and foreign agencies
• Students must be present for the whole day and every day, otherwise the certificate will not be issued and and will not be possible to sing and participate at the final concert
• The Masterclass will take place in Milan, Via Marco Bruto, 24
• Every decision is at unquestionable discretion of the teachers
PROGRAMME
Free, with preference for the Italian and French repertoire
APPLICATION
• Enrolments subject to availability
• If the applications exceed the established number of students, a selection will be made on the basis of the audio/video material sent
• Within 24th February, all applicants will be informed of the list of active students
• All the applicants who cannot be accepted for lack of vacancies will be informed by e-mail and they will have their registration fee refunded.
• None of these payment will be given back or refunded, not even partially, in case of waiver by the applicant
• In case of missing conditions for the starting of the Masterclasses, the paid registration fee will be returned
• OttavaNota and Accademia Lirica Cantoalato are not responsible for any suspension of activities for reasons beyond their will; in case the Masterclass could not be carried out on the dates indicated, however, it will be postponed and new dates will be communicated promptly. As the Masterclass will take place, the refund of the registration and/or attendance fee cannot be requested.
FINAL CONCERT
• On March 14th there will performed a public concert of the students at the prestigious Auditorium Pasquinelli, Milan.
• The students who will participate in the final concert will be selected by unappealable decision of the Teacher Mrs Daria Masiero
• Ottavanota and Accademia Lirica Cantoalato are not responsible for the impossibility of performing the concert at the indicated venue and/ or in the presence of the public, due to reasons independent of their will. In this case, the concert will still take place at the Ottavanota Auditorium and the video recording of the concert will be published on the page of Accademia Lirica Cantoalato
• The Final Concert will involve the special participation of the Teacher soprano Daria Masiero
• Please get a concert suit
• Agents and/or organizers will be invited to the final concert
• The students who, by unappealable decision of the Teacher, have excelled during the Masterclass for their special artistic qualities, will be included in the programmes of the music festivals organized by Accademia Lirica Cantoalato, Associazione Euterpe OttavaNota, Associazione Amici di Casa Verdi Milano, Amici della Lirica di Saronno, DEMOCO.
CERTIFICATE OF ATTENDANCE
At the end of the Masterclass a Certificate of Attendance will be issued to all the students who have attended the whole course. The Certificate will be issued by dall'Accademia Lirica Cantoalato, Associazione Euterpe OttavaNota, under the Patronage of DEMOCO .
COPYRIGHT and INTELLECTUAL PROPERTY
• Accademia Lirica Cantoalato will make the audio-video recording of the final concert, which is the only authorized recording for public use. This recording, in whole or in part, may be requested by the participants and will be published on the OttavaNota website. The same applies to photographic materials.
• Accademia Lirica Cantoalato and OttavaNota hold the distribution, disclosure and use rights related to audio, video, publications and/ or other related to the Masterclasses in question.
• Recordings (audio or video) of the lessons are allowed, exclusively for personal use. By signing the Application Form of the masterclass you accept the explicit clause of not broadcasting audio or video by any means or any tool.
LOCATION OF THE MASTERCLASS
Lessons: Via Marco Bruto, 24 – Milano
• Suburban Train (S5, S6, S9): stop Forlanini
• Autobus n° 73: stop Forlanini; n° 66 e n° 45: stop Piazza Ovidio
• Tram n° 27 : stop Marco Bruto
COSTS AND APPLICATION
Regular students: 150 Euros for registration fee + 350 Euros for course attendance.
Auditors (for the whole course): 80 Euros for registration fee + 100 Euros for participation.
Application:
Applications are open, and close on 21st February. Documents to be attached to your Application to be sent to the Secretariat at the E-mail address: info@cantoalato.it
1. Duly completed Application Form (see enclosure)
2. Title page of your passport or identity card
3. CV including any teaching and/or concert activities
4. Audio or video recording of one or more arias sung by the applicant (mp3 or mp4 mode)
5. Receipt for payment of 150 Euros to be carried out to:
Associazione Euterpe OttavaNota
Iban: IT 38 L 030 6909 6061 0000 0119 953
Cours attendance:
Within March 1st, at the Ottavanota secretariat open every weekday from 3:00 pm to 7:00 pm (except August) in cash, credit card, ATM, cheque or satispay, or bank transfer (indicating name, surname and Masterclass to which you want to participate) to be carried out to:
Associazione Euterpe OttavaNota
Iban: IT 38 L 030 6909 6061 0000 0119 953
STAY
Please note that the Residence Futura, located near the headquarters of the Academy, in agreement with Ottavanota practice the following prices: single 70€, double 90€. The rooms are equipped with kitchenette.
SECRETARIAT AND CONTACTS
Accademia Lirica Cantoalato – OttavaNota, Via Marco Bruto 24, Milano
Office times (5-8 pm): phone +39 0289658114
M° Muglialdo: + 39 3487001383
Email: info@cantoalato.it
STAFF
ACCADEMIA LIRICA CANTOALATO
Director: M° Gioele Muglialdo
Organizing Secretary: Elisabetta Ronchi
Honorary President: Dott. Alessandro Ubertazzi
Under the Patronage of Democo – Fashion, Design, Communication